Впереди 52 понедельника с рассказами о важных вещах. Из чего родился этот проект, зачем он мне и нужен ли он вам, я подробно описала. А что будет на самом деле, посмотрим! Я очень благодарна вашему отклику в комментариях и соцсетях, не ожидала, что многим так понравится эта простая идея!
Начинать очень волнительно. Кажется, что в первую же неделю нужно перечислить самое-пресамое важное и большое: жизнь, любовь и дружбу, или что-то такое особенное, показательное для примера, чтобы было ясно, чего ждать в течение всего года. Но с важными вещами так не получится, вечно будет вразнобой, то, что пришло в голову и захотело быть озвученным. Например, вот так:
Стояние на ногах
В прямом смысле слова. Это та ценность, к которой трудно отнестись серьёзно, пока её не теряешь.
6 лет назад я купила себе скутер, красивый и довольно тяжелый ретро-скутер Honda Joker. Мы провели фантастические пару месяцев вместе. Я каталась по городу, успевала переделать все свои дела ещё до обеда, катала друзей и незнакомых парней, с которыми могла разговориться в кафешке. Постоянно платила штрафы за то, что ездила без шлема, напевала вечные «like a true nature's child, we were born, born to wild» или «Yes man, let's go for a ride, there's so many lanes that we could try, there are so many rules no need to obey, throw my helmet on hold on tight» или даже «Гони, Валентина, гони, у тебя кайф, а не машина, гони, ты видишь, Валя, я совсем не боюсь, и мы будет свободны, пока звучит наш урал-байкер-блюз»…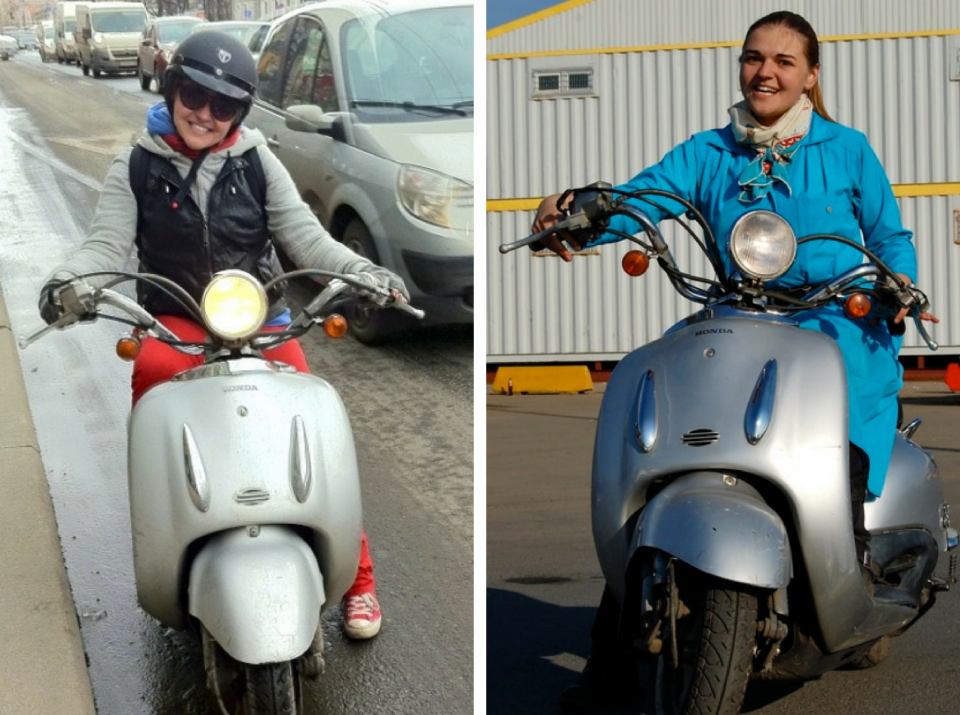 Потом в небольшой аварии (где я, признаться честно, была совсем не виновата, но чудом жива осталась!), я повредила левое колено, а две недели спустя в другой аварии разбила скутер и коленную чашечку правого колена.
Это был очень непростой период в жизни в целом: закрытие бизнеса, крушение надежд, потеря иллюзий насчет доверия к людям… И то, что я не могу нормально стоять на ногах, казалось, было уже слишком. Вот это ощущение, что лето проходит, а я еле передвигаюсь на костылях, одна нога в гипсе, другая в жёстком фиксаторе — такое бессилие. Помню, я тогда писала читательницам, что можно сколько угодно переживать, что ноги кривые, толстые, небритые, бледные и в синяках, но какая же это ерунда по сравнению с тем, что они ходят, держат нас на себе, позволяют танцевать, бегать, прыгать, кататься на велосипедах, плавать, гулять до ночи и ввязываться во всякие приключения.
Все эти 6 лет, я не могла толком рассчитывать на свою левую коленку, раз в несколько месяцев она вдруг теряла устойчивость с пронзительной болью, а потом я хромала несколько дней. И вот в начале августа на Ташкином дне рождения я неудачно повернулась, услышала странный хруст, и почувствовала страшную боль, которая не отпускала ещё несколько дней. За все эти годы никто из врачей ни разу не послал меня на МРТ, даже не намекнул, пришлось в итоге самой догадаться. Там оказался разрыв мениска, повреждение хряща и передней связки.
На прошлой неделе это колено прооперировали, и я снова хожу с костылями. Делаю упражнения, с трудом могу донести чашку с чаем или успеть к звонящему домофону, и много думаю о том, как тяжело, когда выбивает почву из под ног в прямом и переносном смысле слова.
---
Разнообразие поддержки
Начиная с весны меня повсеместно окружает тема поддержки. Мы говорили о ней с Леночкой, мы практиковали её на учёбе, мне постоянно попадаются тексты о поддержке и псевдоподдержке, я стала замечать, как поддерживаю сама и как поддерживают меня. Или думают, что поддерживают.
На каждое «Всё будет хорошо» привычно думаешь: «Всё — точно не будет». На постоянные «милые» запреты чувствовать, все эти «не бойся», «не расстраивайся», «не злись», «не плачь» и «не грусти», огрызаешься: «Какого чёрта!?» На «Что мне сказать? Ну боишься ты, окей…» просто кладёшь трубку.
Нет, никто никому не должен поддержки, на неё не всегда есть силы и её не всегда умеешь. Поэтому начинаешь по-настоящему ценить каждое «я рядом с тобой», «чем тебя поддержать?», «представляю, как ты волнуешься», пространство, в котором можно высказаться и не получить совет, поплакать и быть молча обнятой.
Когда меня везли на операцию по длинным коридорам на каталке, дребезжали по кафельному полу колёсики, из-за головы появлялись эти вечные лампы, веяло холодом, было зябко и безумно страшно. Вспомнились все фильмы с этими жуткими кадрами из больничных коридоров, лились слёзы, казалось, сейчас произойдёт что-то ужасное.
В операционной, украдкой вытерев слёзы, я сказала то ли себе, то ли в пустоту, то ли медсёстрам: «Очень страшно…» Медсестра начала отвечать что-то вроде: «Ничего, всем страшно, всё пройдёт…» — но её перебил мой бодрый жизнерадостный доктор словами: «Мне вот совсем не страшно, я точно знаю, что буду сейчас делать и как починю вашу коленку!» Пожалуй, ничего лучше в этот момент он и не мог сказать. Я выдохнула, улыбнулась и ощутила покалывание от наркоза.
---
Разлука с Ташкой
Впервые Ташка поехала без меня в путешествие. Не к бабушке на пару дней, а в новую страну (Черногорию), где я, например, ни разу не была. Я ждала этой её поездки с самого начала лета, но отпускала девочку со слезами. Получаю её фоточки в вотсапе, вглядываюсь, любуюсь голой попой на фоне моря, спутанными волосиками, азартом, с которым она стреляет из водяного пистолета, с таким интересом слушаю её рассказы про машину напрокат, круг, который можно надеть и через ноги, и через голову, маленьких чёрных рыбок, которых она ПРЯМО В МОРЕ видела… :)
Серж пишет: «Научилась кружиться на круге, раскинув руки в стороны! Кружится, кружится, прямо на волнах, поёт "парам-парам-парам!" И смеётся так задорно! И сама кайфует от себя :) Полное счастье!»
Вернётся новая девочка ко мне. И я воспринимаю это как шанс попробовать нам с ней заново кое-что.
---
Дни, когда совсем никуда не надо
Ни будильника, ни дедлайна, ни перевязки, ни гостей. Молчаливые дни, когда время текучее и нелинейное. Сейчас я провожу их преимущественно на диване, под пледом, с вытянутой ногой и ноутбуком. Донести с костылями чай из кухни в комнату — то ещё приключение, поэтому я завариваю в термос гвоздики, мяты и тмина, и пью весь день. Настолько никуда не надо, было у меня только во время беременности, но тогда оно, конечно, не ценилось так, как сейчас.
И, конечно, будет враньём сказать, что это сплошное счастье, умиротворение и удовольствие. Кроме спокойной размеренности или сосредоточенности на работе, я то и дело ощущаю тревогу, растерянность и печаль. Почти осязаемую печаль. В дни, когда совсем никуда не надо, с ними можно побыть.
---
Тёплый вязаный плед
Да-да, кстати, о пледе. Я редко мёрзну, но почти всегда, когда работаю на диване, укрываюсь пледом. Шерстяным, разноцветным, вязаным «бабушкиными» квадратами. Мне связала его подруга много лет назад, он герой всех моих пикников, поездок на дачу и вот таких диванных рабочих дней.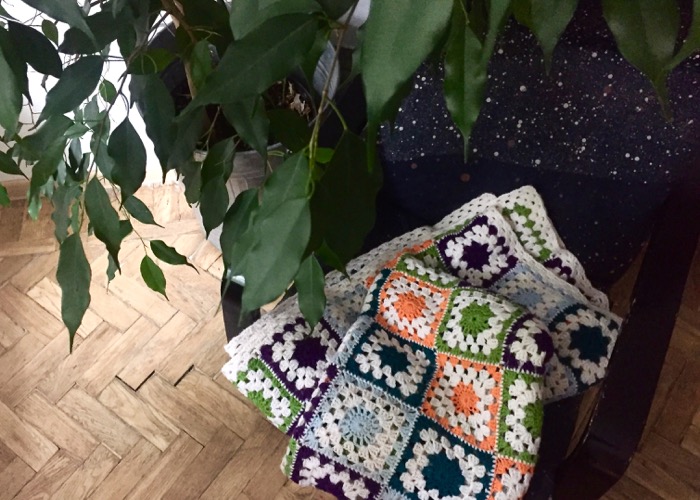 Когда я говорю по телефону, всегда задумчиво играю пальцами с его дырочками, иногда настолько сосредоточенно, что теряю нить разговора. Ташка переняла мою привычку кутаться в плед, когда мы читаем или просто уютненько сидим, трогательно очень.
---
Меня давно интриговал Кен Уилбер и его интегральный подход, но как подступиться к толстым книжкам вроде «Краткая история всего» или «Интегральная духовность», с какой начать и чем продолжить, я не знала. «Я знаю, что тебе подарить,» — сказала мне Настя Криулина. И подарила книгу, которая не только познакомила с Кеном Уилбером с самой человечной стороны, но ещё и перевернула многие мои устоявшиеся представления, напомнила о чём-то большем и позволила отплакать что-то давно и прочно сдерживаемое.
Это автобиографическая книга Кена о любви к его жене Трейе, о её личности и духовном пути, об их пятилетней борьбе с её раком груди, традиционной и альтернативной медицине, кризисах семейной жизни, омраченной тяжелой болезнью. Повествование ведётся от первого лица с постоянными вставками из дневников Трейи, очень откровенными и живыми, кажется, что они писали эту книгу вместе. Кроме этого, в ней письма, интервью и статьи Кена того времени, изложенный им интегральный подход, взгляд на религии и мистицизм, разговоры о деле жизни, медитации, духовности и Духе. О сострадании, смерти, благодати и стойкости.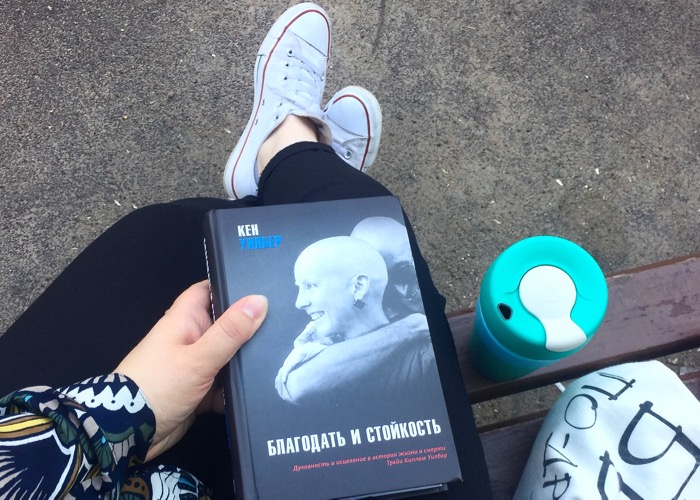 Я готовилась, что она будет очень мрачной и тяжелой, но ощущение, которое она оставила, скорее светлое, обновлённое, углубленное, будто я вспомнила что-то самое центральное, что затерялось в кутерьме повседневности.
---
Предвкушения
Я неплохо себя чувствую сейчас в тишине и одиночестве, в ограниченной подвижности, наслаждаюсь этим медленным временем, работой с текстами, вдумчивым чаем. Но с каким-то особенным удовольствием я предвкушаю, как смогу ходить без костылей и боли, как запланирую катания на каруселях с любимым другом, как успею ещё покататься на лодке, а то и вовсе пойти учиться гребле, как наобнимаю Ташку и порадую её новым кинетическим пластилином, как мы поедем на дачу с командой журнала, как начнётся осенняя учёба и не одна…
Наверно, всё это может стать отдельными пунктами следующих выпусков, но сейчас я получаю удовольствие от того, что я могу напланировать себе чудесную осень и терпеливо её ждать.
---
Начало положено! Кто сегодня начинает со мной? Если вы будете писать о своих важных вещах публично, обязательно присылайте ссылки в комментарии или ставьте хэштег #годважныхвещей, чтобы нам найтись и поддержать друг друга. Ну и с любыми вопросами-ответами-откликами тоже пишите, я и забыла, как это радостно получать ваши комментарии.